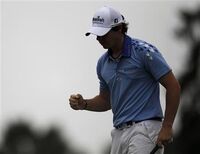 After perhaps the worst round of his career in this year's Masters Tournament, Northern Ireland born golfer Rory McIlroy has won in the 2011 U.S. Open in an astounding fashion. McIlroy led throughout the whole tournament and finished with an 8 stroke lead. The win made McIlroy the youngest golfer to win the U.S. Open since 1923.
The victory has led to rampant partying and celebrations in Northern Ireland. According to Reuters and club pro Stephen Crooks, "We have all supported Rory from day one. There's a huge buzz and excitement here. Rory is someone very special and we can't wait for him to come home with the trophy."
Ireland is so excited about this victory by one of their own countrymen that they are now seeking out a bid to host the British Open. The first available British Open to host isn't until 2016, but the tourism manager Arlene Foster hopes that "golfers would come to Northern Ireland from around the world to play on the courses that produced back-to-back U.S. Open champions McIlroy and Graeme McDowell".
What did you think of McIlroy's breakthrough? Was it great to see him finally get a victory after his collapse at the Masters? Do you think we are set for the age of McIlroy? Is this also a golden age for Ireland golfers?
Gallery
Video
Sources
Ad blocker interference detected!
Wikia is a free-to-use site that makes money from advertising. We have a modified experience for viewers using ad blockers

Wikia is not accessible if you've made further modifications. Remove the custom ad blocker rule(s) and the page will load as expected.