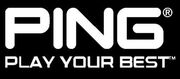 Ping is a company based out of Scotsdale, Arizona. They just celebrated their 50th anniversary in 2009, they make the G5, G10, G15, and Rapture V2 Drivers and irons. The name Ping comes from the sound it makes when you hit a ball with their putters.
External Links
Edit
Ad blocker interference detected!
Wikia is a free-to-use site that makes money from advertising. We have a modified experience for viewers using ad blockers

Wikia is not accessible if you've made further modifications. Remove the custom ad blocker rule(s) and the page will load as expected.